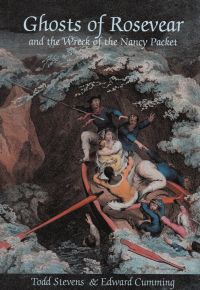 Ghosts of Rosevear
By Todd Stevens & Edward Cumming
Price:

£15.00
Item attributes
ISBN:

978-1-84927-012-0

Published date:

First Published 2009
Item details
In the early 1780's the English East India Company was at war with the Hindus from Southern India. The Governor of the Bombay Presidency, William Hornby was under pressure from the Directors of the Company to provide intelligence on the military progress, as fast as possible, to London. In order to achieve this, the East India Company's "Committee of Secrecy" provided Hornby with an armed brig called the Nancy, a ship decommissioned from the Bengal Marine that was about to be sold off. His orders were to have her "fitted out in the most expeditious manner" as a fast express mail packet. This was undertaken in Bombay dockyard in 1783.

Following the catastrophic loss of his East Indiaman, Fairford that caught fire in Bombay Harbour in 1782, Captain John Haldane (reported at the time as the most unlucky officer in the Company's maritime service) was on hand as a Captain for the Nancy. Coincidently Governor Hornby had also just been instructed to remove Captain John Haldane's partner, the notorious London actress Ann Cargill, from Bombay. This followed an edict from the Prime Minister of England, William Pitt (the younger) who was outraged that "an actress should be defiling the pure shores of India"

The Nancy with a crew of 36, 12 passengers including Ann and her illegitimate baby and "secret" dispatches for East India House London, left India in December 1783. The Nancy was to witness a serious mutiny at Jamestown, St Helena before being wrecked off Rosevear, Isles of Scilly during a ferocious storm on the 25th Feb. 1784.