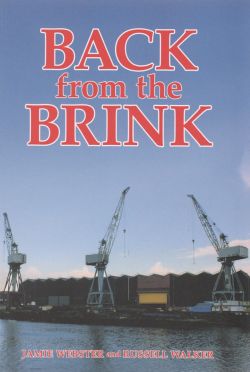 Back from the Brink
Price:

£9.99
Item attributes
ISBN:

978-0-85174-808-5

Published date:

Published 2008
Item details
Bibliographic Notes
The fight to stop the closure of the Kvaerner Govan shipyard in Glasgow was the most high profile industrial campaign in Scotland since the UCS sit-in in the 1970's.
From being days away from closure in 1999, the Govan yard, now part of BAE Systems, is participating in the construction of a multi-billion pound warship order from the Ministry of Defence.
'Back From the Brink' is the inside story of that struggle, told in his own words by the man who led the campaign, Govan's yard convenor Jamie Webster.
Jamie has been described variously as 'God of Govan' (Daily Mirror), '... a true working class hero.' (STUC) and 'just Jamie.' (his wife!).
The book, and the story, begins with the naming and shaming of 13 high profile Scottish Labour MPs who refused to publicly back the fight to keep Govan open. That caused consternation within Labour's ranks and resulted in Jamie being ostracised by some elements in New Labour and by leading national union officials.
'Back From the Brink' doesn't shy away from naming the men and women who put obstacles in Jamie Webster's path as he fought for the jobs of more than 1200 people. Union bosses and political leaders, both past and current, will be anxious to see how they are portrayed. Some will not like what they read, others will be relieved.
But, the book is more than that. It also tells an intensely human story of courage, fortitude, despair and joy. It takes us from the moment Jamie learns the yard is earmarked for closure, through the dark days of trying, and failing, to find a buyer, to the suicide of a worker who couldn't cope with the stress, to the grim realisation that the yard was on the brink of closure, to the eventual jubilation when a buyer is secured at the eleventh hour.
This is also the story of a man with two families. Jamie Webster was responsible for twelve hundred people at the shipyard and for his own wife and children at home. It was a tough balancing act and one that by Jamie's own admission he often failed to get right. He missed, for example, the death of his wife Isabel's father, because he was on a campaign march. His relationship with Isabel could easily have foundered, but, instead, she was his rock.
'Back From the Brink' is a tale of a modern industrial campaign. Jamie fought it with the pragmatism of the time but with the heart and passion seen in union struggles during the 1970's and 80's.