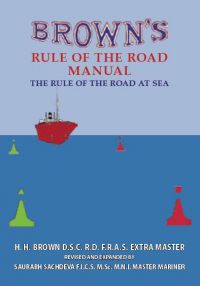 Browns Rule of the Road Manual
By H.H Brown, Extra Master. Revised & expanded by: Saurabh Sachdeva F.I.C.S. M.Sc. M.N.I. Master Mariner
Price:

£45.00
Item attributes
ISBN:

978-1-84927-037-3

Published date:

First published 1928. 19th edition 2012
Item details
We are pleased to announce that this book is available in a digital format from the following suppliers:
Bogerd Martin : Chart Track NavReader
Marine Society & Sea Cadets : MS SeaReader
Navtor Nautic : Navstation
StormGeo : s-Planner | Publications
Todd Navigation : SeaReader
Weilbach : WENDIS SeaReader
This 19th edition of Brown's Rule of The Road Manual has been extensively revised and expanded to include the S.T.C.W. 2010 Manila Amendments, the latest M.C.A. Deck Officer Orals syllabus, and several I.M.O. routeing measures and guidance notices for the conduct of safe navigation. An updated I.A.L.A. buoyage and marks section has also been illustrated by completely new coloured diagrams.