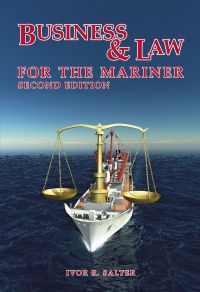 Business and Law for the Mariner
Price:

£60.00
Item attributes
ISBN:

978-1-84927-066-3

Published date:

April 2015; Revised March 2016
Item details
We are pleased to announce that this book is available in a digital format from the following suppliers:
Bogerd Martin : Chart Track NavReader
Marine Society & Sea Cadets : MS SeaReader
Navtor Nautic : Navstation
StormGeo : s-Planner | Publications
Todd Navigation : SeaReader
Weilbach : WENDIS SeaReader
The purpose of this book is to inform mariners about the law.
What law applies to the mariner.

How it applies to the ship and its cargo.

How the cargo and the ship are insured.

What the mariner will need to consider in an

emergency.

What the mariner will need to consider to help

protect the owner of the vessel.

How to employ seamen and what needs are to be

provided for their care and their return home.
This should help mariners in their studies to become masters on the vessels they serve upon, and once masters will also assist them in making the business decisions masters are so often called upon to make.