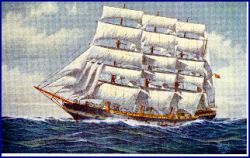 Carradale
Price:

£5.00
Item attributes
ISBN:

Published date:

.
Item details
CARRADALE
Notes
The Carradale had to her credit an especially fine run when she raced second to Falls of Afton from San Francisco to Queenstown in 1896. Whilst she was commanded by Captain Alexander Smith she set up some astonishing records for a full-built ship. Painted light lead colour she was easily recognisable.
The size of the print is 203 x 127 mm. In high-class cut-out mount 305x 254 mm
Bibliographic Notes
The Carradale was a training ship for young men who wanted to have a sea-faring career. The Marine Society's Aim was to encourage poor men and boys of good character to join the Royal Navy at the start of the Sever Years War (1756-1763). By the end of that war the Society had recruited 5,451 men and 5,174 boys.
The Society was incorporated by Act of Parliament in 1772 to apprentice poor boys to the Royal Navy and the merchant service. The Cadets were provided with clothing, food and housing and were taught the basics of seamanship - "Learning the Ropes" - as it was known in the age of sailing ships.
The Maritime Society opened its first training ship, the 350 ton sloop the Beatty, in 1786. It was located on the Thames and had 30 boys in the charge of a Superintendent assisted by a Mate, Schoolmaster, Boatswain and Cook. Within 100 years there were another seven ships on the Thames, with many others scattered across Britain. Since then the Maritime Society has had many patrons, including Lord Horatio Nelson, Edward VII and Queen Elizabeth II. Annual Prizegivings brings together various members of the Royal Family who hand out the awards.
The Arethusa, also painted by Oswald Pennington, was another of the training ships where boys "learned the ropes".