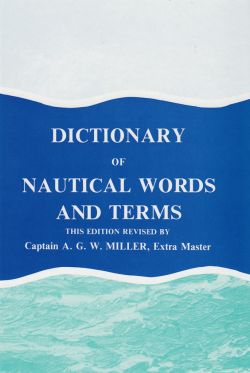 Dictionary of Nautical Words and Terms
Price:

£28.00
Item attributes
ISBN:

978-0-85174-618-0

Published date:

First published 1955-4th edition revised 1994
Item details
This book has been compiled to embody, in one volume, the words and terms that are, or have been, used by seamen in connection with their work. It deals with navigation, seamanship, rigging, meteorology, astronomy, naval architecture, average, ship economics, hydrography, cargo stowage, marine engineering, ice terminology, buoyage and other nautical matters.
The number of entries is nearly 8000; as many of these entries bear more than one definition some - having as many as five - the total number of definitions given approximates 8600. Every endeavour has been made to extend the scope of the book through as wide a range of subjects ancillary to nautical work as would be helpful and interesting to the professional mariner, and to the enquiring layman. The book ranges through numerous aspects of nautical activity, and through many centuries of navigation and seamanship.
"A book of this nature has been a need for many years and the author has made a praiseworthy attempt to cover bowsprit to stern walk, from truck to keel, in the heavens above and the waters beneath all in one book at a price within the reach of most seafarers, to whom it will be a valuable acquisition" - The Journal of the Institute of Navigation.