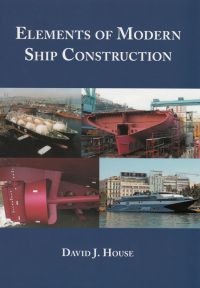 Elements of Modern Ship Construction
Price:

£50.00
Item attributes
ISBN:

978-1-84927-814-6

Published date:

First Edition 2010
Item details
Bibliographic Notes
This latest book by David House is an extensively illustrated work covering all aspects of ship design and construction.

Continual changes in the history of ship design have been brought about by the needs of trade, class and legislation. This current work provides a glossary of shipyard terminology and shipboard elements up to the 21st century.

The work shows detailed aspects of virtually all of today's shipping arms, inclusive of: Container and Roll-On Roll-Off vessels, Liquid Cargo tankers, Bulk Carriers, Passenger and Dry Cargo ships. Shipboard measurements, together with operational features are well illustrated and detailed throughout.
The fore and aft, working ends of the vessel, with their anchors and mooring patterns are clearly depicted. Propeller detail and various rudder options being included alongside specific shipyard practice.

This work provides positive insight to the working areas of the ship, namely the cargo hatch areas, mooring decks, machinery and propulsion elements of the working vessel. The now more familiar use of aluminium, ceramics and composites are also illustrated in and around the arena of ship building.

Modern tankers, with double hulls, large car carriers with their multi-decks, and majestic passenger vessels have all been incorporated to give an extended overview of today's commercial shipping.