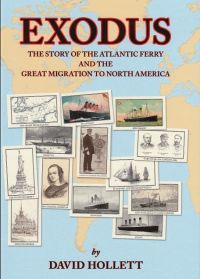 Exodus
Price:

£25.00
Item attributes
ISBN:

978-1-84927-029-8

Published date:

First Edition 2012
Item details
The Story of the Atlantic Ferry and the Great Migration to North America
Bibliographic Notes
Between the years 1830 and 1930 emigration from Europe to North America took the form of a mass exodus. During these years it is estimated that about 40 million people sailed from Britain, Ireland and Continental Europe for the United States, Canada, and other distant lands. Quite remarkably about 9 million of this number sailed from Liverpool, then the second largest port in Britain and the largest emigration port in the world. And the majority of these intrepid travellers headed for the 'New World' of North America, courageously opting for a one-way passage into the unknown.
This work outlines the history of Liverpool and the operation of the 'Atlantic Ferry', at first worked by largely American owned packet ships and later by great ocean liners. Known collectively as 'The Liners of Liverpool' they were mainly owned by world famous shipping enterprises such as Cunard, the Collins Line, the Inman Line, the National Line, the Guion Line and the White Star Line. Mention is also made of the competition these Liverpool-based Lines had to contend with from Continental Lines, such as North German Lloyd and Compagnie Generale Transatlantique.
The tragic story of the Irish and Scottish clearances and evictions, leading to disproportionately large emigrations from these troubled lands receive appropriate attention.
There are also chapters on the persecution of Jews, notably in Tsarist Russia, prompting massemigration and the well-organised Mormon Emigration to the Great Salt Lake Valley. Shipwrecks and insurance scams; notable friends of the emigrants; Joseph Arch and his Agricultural Emigration; The American and Canadian Railroads; the 'Gold-Rush' adventurers, ongoing emigration statistics, and many other related subjects all get a mention in this carefully researched and profusely illustrated book.
Throughout this work the port of Liverpool itself receives much attention and notably so in the chapters on the harsh reality of working-class life in the port in the 19th century; the coming of the Big Ships; the great Liners and Liverpool in the 1880s, and Shipping, Emigration and Industry in the port in the first decades of the 20th Century.
Appropriately, one of the concluding chapters is dedicated to the loss of the White Star liner Titanic on the 15th April, 1912, after famously hitting an iceberg on her maiden voyage to America, an event that will be commemorated in Liverpool this year to mark the centenary of this great disaster.