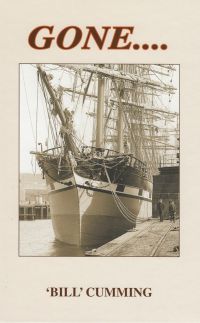 Gone....A Chronicle of the Seafarers & Fabulous Clipper Ships of R & J Craig of Glasgow
By Bill Cumming
Price:

£25.00
Item attributes
ISBN:

978-1-84927-013-7

Published date:

First Edition 2009
Item details
Price Reduction. Was £55.00
Bibliographic Notes
The Theme of "Gone"
Origins of the 4-masted iron sailing ship, which unexpectedly prolonged the usefulness of windjammers during the ascendancy of steam ships. It is the human story of events at the high point of merchant sail-power between 1870 & 1907.

About The Author....
'Bill' Cumming, the great-grandson of two Master Mariners employed by R & J Craig, is a well-travelled Chartered Engineer who has accumulated the original material for this book over many years.
The Storyline....
Based on real people and events this is a gripping factual account of the background events and repercussions of the milestone launch of the world's first 4-masted iron merchant ship in 1875. The phenomenal success of this large square rigged sailing-ship, named County of Peebles, prompted R & J Craig of Glasgow to launch a further eleven fabulous jute clippers. Initially they traded between Cardiff, East India and Dundee and were referred to as the Scottish East India Line. R & J Craig's bold decision to build sailing vessels (the fleet was known as Craig's "Counties") during the ascendancy of steam power, created an unanticipated demand for 4-masted iron and later steel windjammers. These flourished at the peak of the sailing ship era, and continued for 50 years longer than predicted. One of these ships was perhaps the fastest wind ship ever created. The careers of each of the twelve renowned 4-masters are revealed in detail for the first time in one publication. Remarkably, the dilapidated hulls of the County of Peebles and County of Roxburgh still survive!