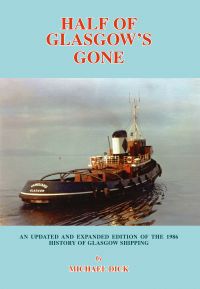 Half of Glasgow's Gone
By M. Dick
Price:

£21.00
Item attributes
ISBN:

978-1-84927-060-1

Published date:

First published 1986 - 2nd Edition April 2017
Item details
Glasgow, until recently, was a major European port and this publication describes its heyday, decline, neglect and subsequent redevelopment. Glasgow's Harbour's significant contribution to the 1939-45 war effort is also covered in some detail. Most of the docks and quays are featured in separate chapters.
This is an enhanced and updated second edition of the 1986 book. Many of its black and white photographs have been enlarged, and there is a new colour photograph section, plus an additional chapter on Glasgow's Dockers.
In addition to the basic text and photographs there is a detailed diagram of the Harbour area in 1962; early plans of Queen's Dock and Prince's Dock; a shipping advertisement from 1962; a comprehensive list of all ships named in the book.
The book records an important part of Glasgow's heritage and a similar pattern of change, redevelopment and regeneration can be seen in other British ports whose roots lay in the 19th century.