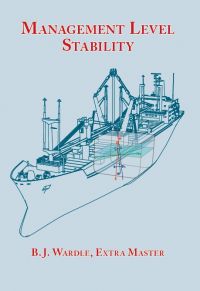 Management Level Stability
By B.J. Wardle
Price:

£45.00
Item attributes
ISBN:

978-1-84927-095-3

Published date:

1st Edition published April 2021
Item details
NEW - 1st Edition, April 2021
We are pleased to announce that this book is available in a digital format from the following suppliers:
Bogerd Martin : Chart Track NavReader
Marine Society & Sea Cadets : MS SeaReader
Navtor Nautic : Navstation
StormGeo : s-Planner | Publications
Todd Navigation : SeaReader
Weilbach : WENDIS SeaReader
Written by B.J. Wardle, this brand new title has been written to meet the needs of students who may be studying in their spare time at home or at sea or attending nautical schools before undertaking marine examinations for career advancement.
This books covers all learning outcomes regarding stability contained in the 2014 Editions of:
IMO Model Course 7.01, Master and Chief Mate
IMO Model Course 7.02, Chief Engineer Officer and Second Engineer Officer
The requirements of students unable to obtain the help of qualified lecturers have been kept in mind throughout.
The books contains self-assessment questions and answers together with many examples which should be worked through before attempting the self-assessment questions.