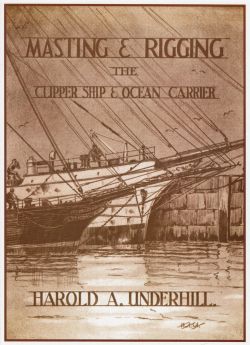 Masting and Rigging
Price:

£22.00
Item attributes
ISBN:

978-0-85174-173-4

Published date:

First published 1946
Item details
The volume containing 50 full-page working drawings and 200 detail sketches, fully covers the whole subject of spar construction and rig of nineteenth and twentieth century Sailing Ships.
Drawings are provided of every spar for both iron and wooden craft, together with chapters on Standing Rigging, Running Rigging, and Sails, while the working and rig of various types of self-reeling topsail, lead of gear and function of brace and halliard winches, etc., are fully explained.
All running rigging is followed from sail to pin describing in detail the type and position of every block and rigging fairlead through which it reeves. Full belaying pin and fairlead diagrams are given for each mast, together with a large folding plate showing the position and use of every pin in the Ship.
Separate chapters cover the Sailing Coaster and unusual Rigs, while the final chapter is devoted to tables of Spar proportions and rigging sizes for various size of craft, together with the basic formulae from which they have been compiled.
The book, which runs into 300 pages, 254X 190 mm, forms the most complete guide to square rig yet published.
"This is definitely the finest guide to Square Rig that I have yet discovered" R. B. K.