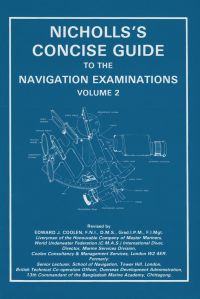 Nicholls Concise Guide (Volume 2)
By E.J. Coolen
Price:

£60.00
Item attributes
ISBN:

978-0-85174-733-0

Published date:

First published 1925-12th edition 1995, revised January 2006
Item details
Bibliographic Notes
A new edition of Captain Coolen's revision of this famous book which enjoys world-wide sales in over 40 countries. His revision includes numerous changes, additions and new features.
Sections on the Sailings, Magnetic Compass, Ocean Passages and Tides have been revised and, to a large extent, re-written. Those relating to Radar Plotting, Tidal Calculations and Meridian Passage Star have been completely re-written. Information relating to charts and the section on Marine Surveying has been updated.
To take account of current practice, a list of symbols and abbreviations has been added, reference to quadrantal notation replaced by 360-degree notation, and terminology relating to celestial navigation updated.
Numerous figures have been re-drawn and new ones added. New features include a check list system of instructions for Tidal Calculations (worked on the new Admiralty Forms, NP204), Radar Plotting, Passage Planning and for Finding Suitable Stars for Meridian Altitudes. Where appropriate, the various steps involved in calculations and procedure have been included in the worked examples and directly linked to the cheek lists and pro-formas provided. It is to be hoped that these inclusions will reduce learning times and be of assistance to the student working privately at sea and also, perhaps, to colleges in those parts of the developing world where there is a shortage of technical instructors.
Another new feature is the inclusion of a careful selection of extracts from official and other publications. The aim here has been to reduce the need for immediate reference to other publications and, so far as is possible, to make this volume self-contained. For those with limited budgets, this feature could be important. Examples of these extracts include: relevant Collision Avoidance Rules in the passage planning and radar sections, the Admiralty Method of Tidal Prediction in the section on tidal calculations, paragraphs from Ocean Passages for the World, Symbols and Abbreviations Chart 5011 and, finally, more comprehensive Admiralty Tide Table extracts.
Summary Lists of the more advanced formulae used in navigation and astronomy have also been included.
As in previous editions, track and practice charts are included in the rear wallet. In this connection it should be noted that the new (Metric) practice chart BA5053 can be used for the exercises on the English Channel.
NEW ADDITION - True Rhumbline Distance (WGS - 84) Calculations in Pocket at Back.
The Author hopes that this new edition will be of some benefit to students and officers in the Merchant Navy wherever they may be, particularly those in the developing world,
"some of whom I have been privileged to serve, and in whom I have great faith and hope for the future".