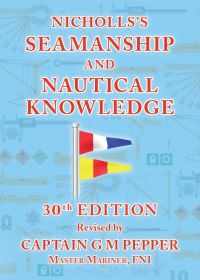 Nicholls's Seamanship and Nautical Knowledge
Price:

£65.00
Item attributes
ISBN:

978-1-84927-087-8

Published date:

First published 1905. 30th Edition 2020
Item details
We are pleased to announce that this book is available in a digital format from the following suppliers:
Bogerd Martin : Chart Track NavReader
Marine Society & Sea Cadets : MS SeaReader
Navtor Nautic : Navstation
StormGeo : s-Planner | Publications
Todd Navigation : SeaReader
Weilbach : WENDIS SeaReader
Now onto its 30th Edition, Nicholls's Seamanship and Nautical Knowledge continues to provide the mariner with an authoritative reference on their craft.
The maritime sector is continuously changing, particularly in terms of ship size, technology and legislation. Since the last edition in 2014, this book has been updated to provide guidance both practically and informatively, and further sources of information are provided throughout the book.
Nicholls's Seamanship covers a wide range of subjects and would be a valuable addition to any mariner's library throughout the world.
The book will be available from March 2020 with input from many leading seafarers, colleagues and experts to reflect current knowledge and good practice.