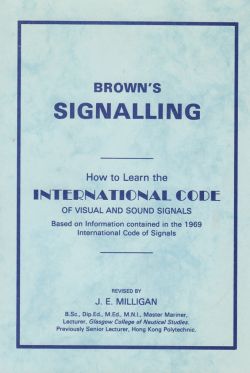 (Out of Print) - Browns Signalling
Price:

£0.00
Item attributes
ISBN:

978-0-85174-350-9

Published date:

First published 1933-revised 9th edition 1988
Item details
Out of Print
Brown's Signalling has been compiled in such a manner that it provides a progressive course of study for those who desire to acquire proficiency in Modern Signalling. Sufficient Code Groups have been inserted to admit of practice in the Coding and Decoding of messages.
Numerous Questions with Answers relating to all forms of Signals incorporated in the Code are given, along with Coloured Plates showing the complete International Code Flags, and the Lights and Signals displayed by Aircraft in Air and on Sea. Semaphore and Morse Signalling, Sound Signalling, Submarine Signalling, Storm Signals are all included.
The new edition will prove invaluable to Ships' Officers, Board of Trade Candidates, Seamen, Yachtsmen and Airmen.