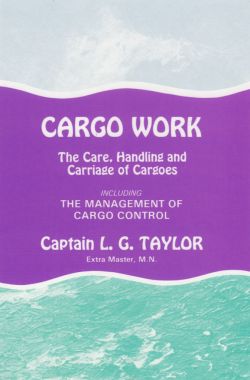 (Out of Print) - Cargo Work
Price:

£0.00
Item attributes
ISBN:

978-0-85174-605-0

Published date:

First published 1944-12th edition 1992
Item details
Suggested Repacement:
This is the 12th Edition of this book, updated and completely revised to cover, as far as is possible in a changing progressive industry, the widest spectrum of cargo handling and the attendant services which this requires. As such, it aims to reflect the interests and needs of shippers to obtain the most efficient, effective and profitable means of carriage for their goods and of the procedures necessary to those ends.
Within its 524 pages, this edition retains much of the basic principles of cargo handling, to move on, in more precise detail, to the specifies of most forms of cargoes, in 'dry bulk, unitized, containerized, refrigerated, dangerous and liquid form, all of which are supported by conventional and modern practices, with appropriate references to Legislation and Control recommendations and Codes of practice. In this latter aspect the importance of Safety is not neglected.
Ship Cargo Working Gear, both in conventional and modern practice procedures, is appropriately covered as is also the correlation and co-ordination as between 'ship and shore' handling facilities, including computerized systems.
The Management of Marine Cargo Transportation is broadly dealt with insofar as The Patterns of Trade and The Business of Shipping require, emphasizing the organizational and administrative functions needful by all personnel concerned with the impact of international cargo movement.
In no small way does the Ship Cargo Officer hold a position of high priority in this business and, understandably, the book is aimed primarily in that direction, but it can be equally useful and informative to the others associated with cargo carriage, be they in ships, ports, transport or shipping business organizations.
This edition is, sectionally, adequately illustrated and diagrammed, clearly indexed and contains, also, a Glossary of Cargo Handling Terms.
It is a book of technical/practical content equally valuable for Competency Examinations or for Career Development.