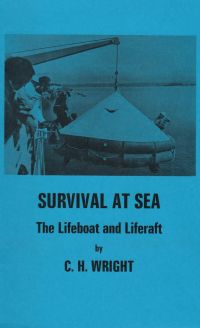 (Out of Print) - Survival at Sea
By C.H. Wright
Price:

£0.00
Item attributes
ISBN:

978-0-85174-797-2

Published date:

First published 1971-5th edition revised 2007
Item details
Suggested Replacement:
Brown's Guide to Survival at Sea
The object in writing this book is to provide not only a reliable and useful guide for candidates attempting the Department of Trade and Industry examinations for Certificated Lifeboat men, but also a description of the latest aids available which contribute towards safety of life at sea, together with the means whereby they can he used to the best advantage and which can be understood by all who sail the sea.
While only the regulations concerning foreign-going British Merchant Ships have been quoted, these regulations incorporate the life saving regulations applicable to most other vessels. Aids not required by these regulations have also been included in an effort to make the book fully comprehensive.
In addition to merchant seamen, we trust that fishermen, trawler men, yachtsmen, and air-crews will find much useful material included, be they sailors, engineers, radio-operators, or members of the catering department. The period of qualifying sea service may be served in any type of sea-going vessel.
All whose business takes them either on or over the oceans should possess a knowledge of the means available to them to assist in saving lives in an emergency, and how to use them. For if they do not know beforehand, they will most certainly not know when sudden disaster unexpectedly strikes.