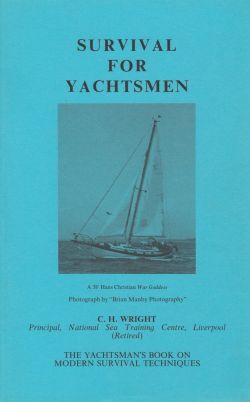 (Out of Print) - Survival for Yachtsmen
By C.H. Wright
Price:

£0.00
Item attributes
ISBN:

978-0-85174-489-6

Published date:

First published 1985
Item details
Suggested Replacement:
Brown's Guide to Survival at Sea

Since writing "Know Your Life raft" in 1976 much has taken place. The United Kingdom Merchant Shipping (Life-Saving Appliances) Regulations have been up-dated. The International Maritime Organization has re-written the 1976 SOLAS Convention Requirements with new up-dated Regulations due to come into force in 1986 (although these regulations are not mandatory for pleasure craft) and the Icelandic Government has conducted trials to improve the construction of inflatable life rafts and life raft sea anchors. The National Maritime Institute have recommended a new type of sea anchor for life rafts. Considerable experience gained from the M.V. "Lovat" disaster, the 1979 Fastnet Race and the Falklands invasion have all helped to make a marked improvement to the concept of survival at sea.