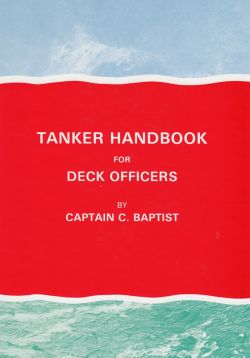 (Out Of Print) - Tanker Handbook for Deck Officers
Price:

£0.00
Item attributes
ISBN:

978-0-85174-672-2

Published date:

First published 1954-8th edition 2000
Item details
Suggested Repacement:
Manual of Oil Tanker Operations
The immediate success of the Tanker Handbook by Captain Baptist has necessitated a new edition, and the author has taken the opportunity of re-writing the major part of the book and adding a considerable number of new illustrations and diagrams not shown in any other book to extend the field of the publication. It is now possible for Ships' Officers to get a firm grasp of a subject that is constantly developing and tanker types and trades with special types have been included in the new edition. The very latest pumps and pumping equipment are described, and the efficient operation of this gear can be readily followed. There are large diagrams showing tanker elevation and giving trim tables and pipeline layout.
Contents:-
Introduction
History of Oil Transportation at Sea
Pumps and Pumping Equipment
Oil Tanker Cargo Systems
Heating, Cooling and Ventilation Systems
Petroleum Products
Gas Freeing and Tank Cleaning
Loading Crude Oil
Discharging Crude Oil
The Carriage of Refined Oils
Special Cargoes
Oil Tankers in Ballast
Miscellaneous Pumping Data.
"No deck officer on a tanker should be without this book" - Institute Of Petroleum Review.