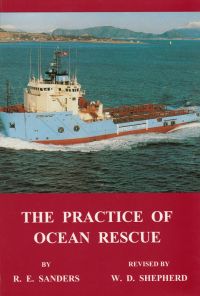 (Out of Print) - The Practice of Ocean Rescue
Price:

£0.00
Item attributes
ISBN:

978-0-85174-647-0

Published date:

First Published 1968-Revised 1998
Item details
Out of Print
This well known authoritative title is held in high regard by all those involved in and concerned with the practice of Towing, Salvage and Sea Rescue.
The 1997 revised version incorporates the capabilities of the multi purpose ocean going tug types as applied to ocean towing, salvage and rescue. The evolution of this type from the early tugs to the coastal and ocean tugs and the anchor handling tug and supply vessels has been described and the text extended accordingly. Specifically, the hydraulic towing winch has been added to the Towing winch chapter. The salvage and diving section has been retained and updated and the Appendices have been fully renewed and extended to reflect many current Rules and Regulations pertaining not only to practical Tug Masters but also to all those with responsibility for maritime activity both ashore and afloat.
This book, - with some colour photographs of tugs from round the world - contains important elements of seafaring life; that of towing, salvage, rescue and safety. It should be read by all those likely to be involved in any way with a maritime emergency, especially in the light of Lord Donaldson's Report, Safer Ships, Cleaner Seas.