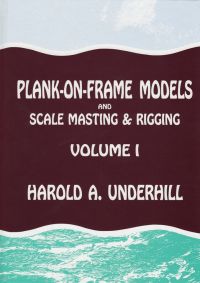 Plank on Frame Models and Scale Masting & Rigging (Volume 1)
Price:

£25.00
Item attributes
ISBN:

978-0-85174-186-4

Published date:

First published 1958, Reprinted 2010
Item details
The construction of models with scale framing and planking is not beyond the ability of the most ordinary modelmaker, providing his main interest is in the actual work of construction and not merely in seeing the finished product. An elaborate workshop and tool kit is not necessary, since it is largely based on the building of one of the Author's own models at a time when immediately after World War II, neither of these were available to him.
Although the primary model described in Vol. 1 is to scale in all its internal constructional details, alternative simplified methods are also included, as are the hulls of sailing models, power craft and clinker-built boats.
The Author's books on sailing ship history and construction are well known, as is the wide range of plans. The present book is founded on the experience of some fifty years of spare-time model building, and takes the reader right through its subject from the reading and interpretation of plans to mounting the finished model on its base. It is a book, which will raise the standard of the modelling of wooden ships.
VOL. I. CONTENTS:-Plans and Preliminaries · Building the Frame · Planking the Hull · Planking the Deck and Bulwarks · Deck Erections, Fittings and Finish · A few Alternatives in Frame Making · List of Plans. 170 pages, 248X 178mm, 28 illustrations from Photographs, 95 Sketches, 7 Plates of Plans.
Also available: Volume II