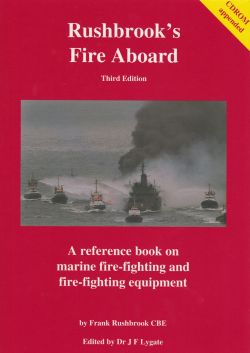 Rushbrooks Fire Aboard
Price:

£90.00
Item attributes
ISBN:

978-0-85174-659-3

Published date:

First published 1961-3rd edition 1998
Item details
Bibliographic Notes
This unique 628 page book, is a must for all persons and companies in any way interested in fire on board ships. These persons include: shipowners; shipbuilders. ship repairers; naval architects; engineering designers; P & I Clubs; underwriters; admiralty lawyers; ships crew; port and harbour management; tug owners; stevedores; salvage companies; marine superintendents; shipping agents; management agents; surveyors; offshore operators; cargo experts; supervisory organisations, e.g. classification societies; IMO; state safety agencies; government departments; fire and police forces with port risks; manufacturers of shipboard fire equipment; manufacturers of hazardous goods who export by sea; fire training schools; marine staff colleges; risk assessors etc.
Each book is accompanied with a CDROM, which we believe is an innovation which will be greatly appreciated by readers. Probably this feature is a world first in the field of maritime fire safety literature! The book and CDROM contains a list of major ship fires which having occurred since 1800. These are fully indexed and can be searched on disc, as can the book itself. A further use of this facility is the ability to instantly call up a specific piece of legislation relating, for example, to a 'fixed fire-fighting system' required for machinery space, or cargo hold protection.
Extensive use is made throughout the book of colour photographs, which, especially those illustrating actual ship fires, should alert shipboard personnel to the awful danger accompanying such incidents. Hopefully, lessons will be learned from the mistakes revealed in the narratives of such fires!Chapters 1 and 2 dealing with historical data relating to fire-fighting through the ages and to fighting of fire on board ship.
Chapter 3 is an analysis of trends in ship Fires. No less than 23 charts, in full colour, illustrate the trend of ship fires for the years 1977 through 1996. Many of these charts are completely new and cover aspects of fire never before tackled.
Chapters 4 and 5 give graphic examples of actual ship fire cases, which have taken place at sea and in port. Many ship fire cases are discussed at length and the lessons learned from each highlighted by the author.
Chapter 6 deals with major disasters, which have involved ports in different parts of the world.
Chapter 7 deals with the Legal Environment and will be of interest to students and to shipboard personnel. The entire gambit of international law applicable to fire and fire a prevention as laid down by the International Maritime Organization (IMO) in the form of Safety of Life at Sea (SOLAS) Regulations, Chapters 11-1 and 11-2 is quoted verbatim. Each individual piece of fire equipment is described and where appropriate, its use discussed at length. Similarly treated is the application of The Carriage of Goods by Sea Act (COGSA). This Act governs the transport of all goods carried by sea and is recognised by virtually all nations with shipping interests.
Chapters 8 to 11 describe all the fire-fighting equipment required to be provided on board the different types of ship. The appropriate legislation is recorded and the author makes comment after each section. The application of water spray, water mist, alternative gases for halon protection and new developments in analogue addressable detection systems are discussed.
The Training of Personnel and the Fire-Fighting in Ships in Port and at Sea is described in Chapters 12 and 13. The author brings to bear his lifetime experience of fighting ship fires. Chapter 14 discusses the Problem of Impaired Stability.
Chapter 15 will be of interest to all persons working on offshore oil facilities and to those with responsibility for the safety on the rigs and platforms.