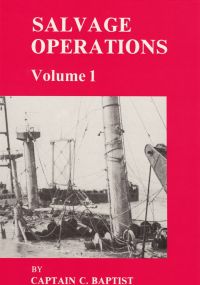 Salvage Operations (Volume 1)
Price:

£30.00
Item attributes
ISBN:

978-0-85174-648-7

Published date:

First published 1979 - reprinted 1997
Item details
Bibliographic Notes
The principle of marine salvage is unique in the world of maritime affairs. It has no counterpart ashore. Marine salvage is based on the concept that when a person or persons save a ship and/or her cargo from loss or damage, the successful salvor is entitled to a reward The text explains many of the terms used in salvage and some of the agreements, such as Lloyds Open Form and "No Cure No Pay" used in the British Courts of Admiralty, which not only decide such cases in waters under British Jurisdiction but also many others in which parties concerned agree to settle matters under such agreements.
A number of salvage incidents have been chosen from his own personal experience, as well as the records of two famous salvage companies, one based in Holland and the other in Singapore. Salvage incidents include the famous Torrey Canyon as well as a number of other salvage jobs including major strandings, ships on fire and lifting sunken ships.
The author has made his selection of incidents carefully to interest the professional as well as the informed layman.