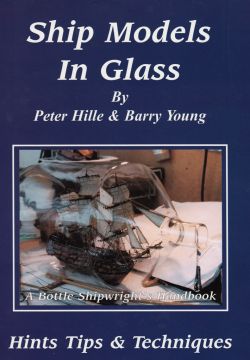 Ship Models in Glass
By Peter Hille and Barry Young
Price:

£35.00
Item attributes
ISBN:

978-0-85174-676-0

Published date:

First published 1999
Item details
This is the most detailed handbook on the subject of bottling ships that has ever been produced. It contains a vast store of tips, techniques and tricks of the trade collected from around the world. Whether you want to build latter day antiques, in the time honoured fashion of the old Cape Horners, or go for the ultimate challenge of a full-blown scale model, all the information you are ever likely to want has been assembled in the most incredible detail in these pages.
Everything is arranged alphabetically under topic headings, and the whole work is cross-referenced to make it easy for you to find your way around. With over 300 line drawings and illustrations the book has been written in an easy informal style in simple everyday language. Everything has been tried and tested and you can be sure that it will work. Above all, at no time are you left to flounder on your own.
More than this, the book contains a wealth of knowledge about miniature modelling in general, with in depth chapters on working bone, soldering, photo etching and silicon rubber mould making to name but a few.
There is something for everyone. If you are a newcomer to the hobby there are chapters on drawing up plans, and getting started. Whereas experienced modellers will find the chapters on selecting thread and advanced rigging techniques indispensable.
To pull all the techniques together four richly illustrated projects have been included at the back of the book. The vessels have been chosen for the sheer beauty of their lines. Each project deals with a different type of rig and explores by means of example how best to get the plan off the drawing board, and translate it into a beautiful model. Includes plans for the Iduna, Pride of Baltimore, Belem, and Swan.
Whether they be simple dioramas or perfect scale replicas worth thousands of pounds, there is no doubt that ships in bottles have a certain magic about them. People from all walks of life and all age groups find themselves drawn, like moths to a candle, to marvel at this miniature world inside the bottle. What better way to keep a delicate model safe, and at the same time show off your modelling skills.