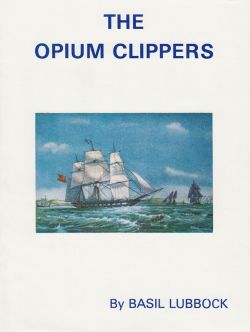 The Opium Clippers
Price:

£24.00
Item attributes
ISBN:

978-0-85174-241-0

Published date:

First published 1933
Item details
Of all sea trades that of the opium smuggler was undoubtedly one of the most romantic.
The dangers of the trade were as great as the profits. Uncharted reefs typhoons, Chinese and Malay pirates and hostile mandarins were the main hazards run by the opium smuggler. Yet it was a service which was much sought after and not easy to enter - a service which demanded many qualities besides that of being a prime seaman-fighting qualities diplomatic qualities, business qualities, pioneering qualities, for fortunes often depended upon a captain's knowledge of Chinese "pigeon" or a mate's gift for surveying strange waters.
The work of delving into the past and putting together this history of the opium clippers has been a long and difficult one. Their owners never courted publicity. Few of the ships were listed at Lloyd's.
The Registrar-General of Shipping knew them not. Their movements did not appear in the shipping columns of the Times. The log book of a smuggler was not easy to come by. Typhoons and pirates wiped out many a record.
Related Titles: The Basil Lubbock Collection The China Clippers