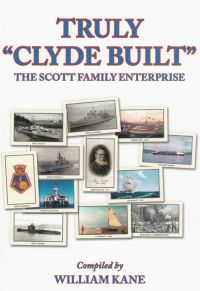 Truly Clyde Built
By William Kane
Price:

£60.00
Item attributes
ISBN:

978-1-84927-014-4

Published date:

First Edition 2009. Limited Edition - 500 Copies
Item details
Bibliographic Notes
Please note that this title is only available directly from the publisher
While there are four excellent books already published on Scott's, this volume concentrates on the family members rather than the company as such. The contents - compiled by William Kane - follow closely the thesis submitted by the late Dr. Johnston F. Robb to Glasgow University in 1993, which traces the lives of John II, John III and John IV, under whom the company rose from obscurity to become world renowned.
Scott's of Greenock grew from a small family business building and repairing Herring Busses in 1711 to leading the world in both merchant and naval shipbuilding, building surface and subsurface vessels to the highest standards.
From 1970 onwards, the company and the rest of the industry declined until finally in 1993, no longer under the control of the family, the gates closed permanently thus ending a great relationship between the people of Greenock and the Scott Family Enterprise. The included companion data DVD contains a wealth of additional material - over 1400 files totalling almost 2GB of documents, tables and photographs.