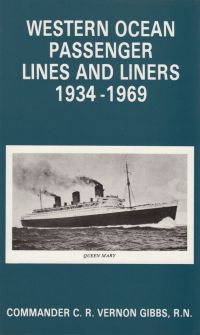 Western Ocean Passenger Lines and Liners 1934 1969
By Cdr. C.R. Vernon Gibbs, R.N.
Price:

£15.00
Item attributes
ISBN:

978-0-85174-056-0

Published date:

First published 1970
Item details
The book is complete in itself, but also supplements my Passenger Liners of the Western Ocean, of which the last text was written in 1957. These years have witnessed many changes, including the inauguration (and sometimes closure) of new passenger services across the North Atlantic, but perhaps the withering away of the Canadian traffic has been the most pronounced.
Differentiation between the New York and the St. Lawrence trades in the book's arrangement has become pointless. Where ships' particulars, etc., given in this present work disagree with those in my earlier books, I should like the newer text accepted, bearing in mind that the older text give 'as built' figures for pre-1934 vessels and the present 'as in 1934'.
I have endeavoured to make the illustrations fully representative and choice has often been guided by the desire to show the funnel of a particular company. Many readers will notice that I have omitted the customary definite article before the names of ships. The omission has been made deliberately in the belief that it lightens the reading of a book so heavily weighted with ship-names and I can only hope that readers will agree.