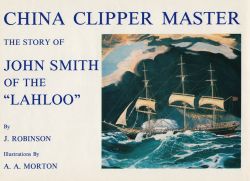 China Clipper Master
By J. Robinson
Price:

£25.00
Item attributes
ISBN:

978-0-85174-628-9

Published date:

First published 1995
Item details
This is the thoroughly researched story of John Smith, whose career saw him rise from boy on a Greenland whaler, to the position of master of the Lahloo, one of the most successful, and in the opinion of some experts, the most beautiful of the China tea clippers.
Born in Anstruther, Fife, in 1823, his sea-going life started even before he was into his teens. He rose steadily up the ladder until he reached the top with command of one of the most famous ships in the China Tea Trade.
After the loss of the Lahloo in 1872, he was given the job by Killick Martin of London, to supervise the building of the Maju at Dundee. She was an iron clipper intended for the China Run, and much was expected of her in the trade.
She sailed from Dundee on her maiden voyage bound for Rangoon with John Smith in command, but was lost with all hands five days later off Barvas in Lewis, in the "Great Gale of 21st October, 1874". All the details of the disaster are given in the words of many contemporary newspaper reports.
The story continues by following the long widowhood of his wife and the lives of his daughters.
Also covered is his life-long rivalry with Captain John Keay of the Falcon and Ariel, who was born in the same street of the fishing town in The East Neuk of Fife.
Related Titles: The Basil Lubbock Collection The China Clippers Gone