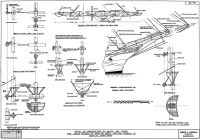 Details of Masts and Spars
By Harold A. Underhill, A.M.I.E.S.
Price:

£9.00
Item attributes
ISBN:

n/a
Item details
Plan: 29
This sheet has been produced as a guide to those who are not familiar with the construction of the masts and spars of the modern sailing vessel. The drawing shows constructional details of typical tops, cross-trees, doublings, yards, slings and bowsprit.
Size of sheet 30"x21".
Construction help: Plank-On-Frame Models Vol I Plank-On-Frame Models Vol II
Catalogues: Sailing Ships Powered Craft