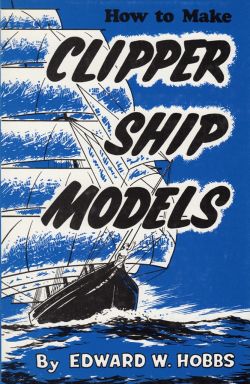 How to Make Clipper Ship Models
By E. W. Hobbs
Price:

£16.00
Item attributes
ISBN:

978-0-85174-097-3

Published date:

First published 1927 2nd edition revised 1971
Item details
There are detailed instructions for the building of a characteristic and world famous clipper, the Cutty Sark, the same ship being described and dealt with first as a very simple waterline model, which anyone can make with the aid of a pocket knife and a piece of cigar box wood, a few pins and bits of paper.
Two chapters are then devoted to methods of building hulls in general for any type of Clipper Ship model, and these followed by a detailed description of every step in making a worth while model of a four masted Loch Torrens. Illustrations are a special feature of this part of the work and include four folding plates, some 150 detailed sketches and working drawings, the whole so devised and simplified that anyone with average ability can make a really attractive and picturesque model with remarkable fidelity to the original.
Separate chapters are devoted to Masts and Spars, Sails, Standing and Running Rigging, Deck Fittings and so forth, and the work concludes with chapters on Painting and Finishing, making Showcases and Stands. There are some 160 photos and about 40 line drawings of details and parts, together with five invaluable large-size folding plates of working drawings.
Related books: Deep-Water Sail