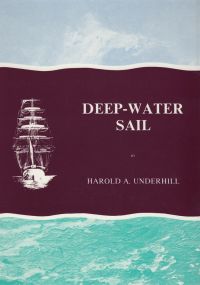 Deep-Water Sail
Price:

£30.00
Item attributes
ISBN:

978-0-85174-172-7

Published date:

First published 1952-2nd edition 1963
Item details
A book for all students of sail and lovers of the windjammer, dealing with the sailing ship of the nineteenth and twentieth centuries. The types covered range from the small craft of Tasmania to the Bluenose ships of Canada, from the "Onker" barques and barquentines of the Baltic to the schooners of the Pacific Islands; "Country Wallahs" of the Indian Ocean and schooners of the Levant.
Among the many sets of plans providelans provided are such ships as the little Tasmanian clipper Harriet McGregor. The Blackwall frigate True Briton, the composite clipper Torrens and famous iron clippers. The big ships are represented by the beautiful Queen Margaret, the five-master France, the four-master Kommodore Johnsen and the well-known grain ship Parma.
Size 248X178 mm. 387 pages. Over 200 illustrations and 28 folding plates.
CONTENTS:
Introduction
Development and Design
Small Fore-and-Afters
Topsail Schooners and Small Barquentines
Brigs, Brigantines and Snows
Barquentines and Small Barques
Ships
The Big Full-Rigger
Big Barques and Barquentines
Big Schooners and Wood Barquentines
Oddities
Deck Fittings and Details
"I think it is one of the finest books I have ever purhased on old-time sailing craft".-Dempsey E. Forsythe, Baltimore, U.S.A.
Related books: Last of the Windjammers - Volume 1 / Volume 2
Related books: How to Make Clipper Ship Models The Blackwall Frigates Lubbock Collection The Nitrate Clippers
Related plans, Kommodore Johnson / Magdalene Vinnen: 866 867 868 869 870
Related plans, Harriet McGreggor: 986 987 988
Related plans, Scandinavia "Onker" Barquentine: 990 991 992
Related plans, Parma 47¾": 1029 1030 1031 1032