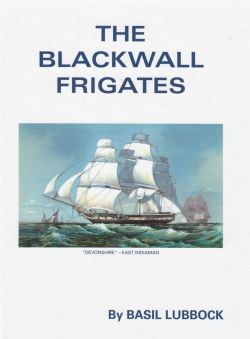 The Blackwall Frigates
Price:

£24.00
Item attributes
ISBN:

978-0-85174-108-6

Published date:

First published 1924-2nd edition 1950
Item details
The Blackwall Frigates form a connecting link between the lordly East lndiaman of the Honourable John Company and the magnificent P. & 0. and Orient liners of the present day. They were first-class well-run happy ships and the sailor who started his sea life as a midshipman aboard a Blackwaller looked back ever afterwards to his cadet days as the happiest period of his career.
The East still calls, yet its glamour was twice as alluring, its vista twice as romantic in the days of sail.
Part I deals with the history of the Blackwall Yard, one of the oldest shipbuilding yards.
Part II details a voyage out East in the good old days.
Part III deals with the beautiful frigate-built passenger ships of Green, Wigram, Smith, Somes, Devitt & Moore, and Duncan Dunbar.
The illustrations are of value in the first place, because the old lithographs which could be seen in every office and picture seller's window are fast becoming harder and harder to find; secondly, because the photographs are taken from prints, the negatives of which, in most instances, have long been lost.
Related Titles: The Basil Lubbock Collection Deep Water Sail