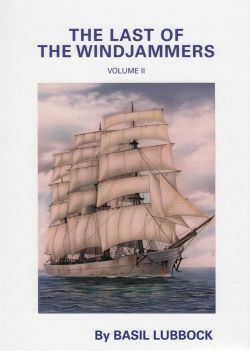 The Last of the Windjammers (Volume 2)
Price:

£40.00
Item attributes
ISBN:

978-0-85174-114-7

Published date:

First published 1929; Reprinted 2009
Item details
The second volume embraces the period 1888-1928, forty hard years for the Windjammer.
Mr. Lubbock's virile pen draws wonderful word-pictures of the Last Boom in Sail, The Limejuicers of 1888-89, The Carriers of the Nineties, The Square Riggers of the Twentieth Century, and so on.
He has something to say on the Art of Handling Sail, the unique City of Hankow, Monster Sailing Ships, the capsizing of the Lodore and Blairmore, the naming of Masts, Law's "Shires", queer rigs, the wonderful Lancing, the Ports of the World, Weir's "Banks", Lost Arts of the Seaman, Clink's Slowcoaches Shire Line, Captains, the "Glens", German, Argentine, Norwegian, French, Belgian, Finnish and Danish Training Ships, The Reef Topsail Voice, and so on.
Related Books: Volume 1 The Basil Lubbock Collection The Nitrate Clippers Deep-Water Sail