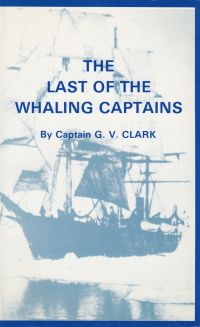 Last of the Whaling Captains
Price:

£16.00
Item attributes
ISBN:

978-0-85174-498-8

Published date:

First published 1986
Item details
This is the story of a remarkable man who spent most of his sea life in the Arctic and knew it better than almost anyone I am aware of. Captain Murray lived with the Eskimos for years at a stretch, talked their language, shared their hardships, tended them when they were sick and often provided them with food and shelter. He first visited the Arctic in a square-rigged whaler in 1884, just over one hundred years ago, when conditions there were little different to what they had been when Sir John Franklin's expedition disappeared in 1845 while searching for the North-West Passage.
Once a whaler had left the U.K. for the North she was in a silent world of her own, cut off from other ships or shore bases except by direct contact and it remained thus until wireless came in to alter the whole way of sea life. Even so, the old-time whalers were not fitted with wireless, as is shown in the case of the auxiliary barque Active in 1914 when she was at Lake Harbour, Hudson Strait, on 4th October with Captain Murray in command and was told by word of mouth of the outbreak of war two months earlier.
Wireless and the aeroplane were the two inventions which removed the isolation of the North as Captain Murray knew it but it was wireless, long before the aeroplane, which broke through the barrier and brought people into communicable range when far away. There have been many examples of the fact that certain qualities of mind and temperament are essential for anyone who would make the Arctic their home. The silence, of a quality unknown to the city dweller and frightening to some; the knowledge that one is surrounded by thousands of square miles of empty land and not be overawed by it; the ability to be able to live in harmony with people of a different race and background; physical fitness would be another essential. Captain Murray had all these qualities and as he demonstrated many times, was the ideal type for Arctic life, a man of iron will, stoically able to endure extreme hardship and suffering, and able to handle men in all situations. I am thankful I knew him.
Related Titles: The Basil Lubbock Collection The Arctic Whalers