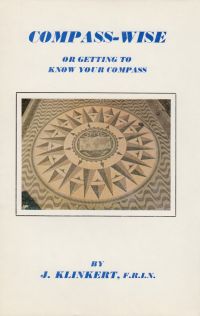 (Out of Print) - Compass Wise, or getting to Know Your Compass
By J. Klinkert
Price:

£0.00
Item attributes
ISBN:

978-0-85174-252-6

Published date:

First published 1976
Item details
Suggested Replacements:
Magnetic Compass Deviation and Correction
Compass Observation Book - No 30

"Professional and amateur seafarers alike who have ever needed to set course and use a compass to steer by, cannot fail to be both informed and entertained by the contents of Compass- Wise. The sound advice which is given in these pages regarding the use and behaviour of the vessel's foremost instrument of navigation is something few navigators would wish to be without. The sixteen chapters contain innumerable hints and explanations of compass work which reduce much theoretical detail to a simple and attractive way of using the prime instrument to better purpose. At the same time, the reader may learn a lot about that which he formerly took for granted, or just never realised. Reading Compass- Wise is likely to bring profit and pleasure to anyone interested in knowing 'how's she heading'. The author succeeds in provoking the reader's curiosity with each page".