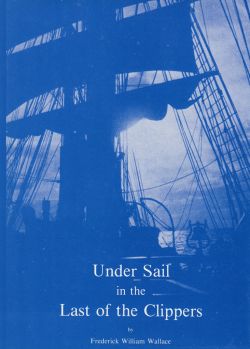 Under Sail in the Last of the Clippers
By F.W. Wallace
Price:

£22.00
Item attributes
ISBN:

978-0-85174-508-4

Published date:

First published 1936
Item details
This is the record of an Atlantic passage in a ship that had an interesting and romantic career. She was a survivor of the London-Australia iron clipper fleet of the 'seventies and one of the finest of her class.
The story is largely a transcription of a diary kept during the passage. It is being published fifteen years afterwards because of the general interest that is now being taken in the old-time sailing ships, and because the ship I had the privilege of sailing in had many claims to fame, not alone in her design and construction but also in her record of service afloat.
Since there are many lovers of the sea and the fast vanishing windships who must do their voyaging vicariously through the medium of books, this account has been written particularly with them in mind. Thus, I have translated my notes into more explanatory detail than would be found in a seaman's log book, and have elaborated upon the daily routine, the vagaries of the weather as it affected the ship's progress from hour to hour, the construction and fittings, as well as giving some idea of the working of the ship.
The photographs taken on the passage will serve to show how such ships were fitted and how they appeared under sail.
Fredreick William Wallace. - 1936
Chapter 1. I join the Grand Duchess on September 20, 1930 · Her furniture and fittings · The yacht-like saloon and teak deck-houses · Nine men short in crew · The capable manly mate · The master, a man in early thirties, radiates vitalilty · History of the ship · Formerly Hesperus · Cargo of basswood logs · The gear · Wireless · Crew now complete · A Friday sailing · Captain and officers gentlemen, well educated, and neat in clothing and appearance.
Chapter 2. Crew at work · Bosun and his "picturesque" language · The French Canadian river pilot comes on board · The tug moves alongside · The nondescript crew and their "qualifications" · St. Lawrence pilots a closed corporation · Quebec and its atmosphere of old Europe · Sailors looking for a safe road to the top · Thirty-three men in a 1900-ton ship · The tug in difficulties.
Chaper 3. The Belgian bosun makes himself heard · His opinion of his "crowd" · The figurehead loses an arm · San Marco, Italian tramp steamer, grain laden, steaming in our wake · Setting the sails · Bracing the yards · The running rigging · A fine night and loath to go below · The Lancing once the Peveire.
Chapter 4. Officers Russian but all orders given in English · An excellent table and food of the best · Men get liberal food supply and well-cooked · An Armenian, one of the crowd, the most useless · He refuses to work · Ship moving steadily · Ship going along at 9 knots · An inspiring sight watching the great windship · "Armenia's" malingering · Have sailormen degenerated? · Very few of the crew professional seamen · Pleasant weather · Captain highly proficient in the navigation sciences · On St. Pierre Bank · Banks fishing schooners.
Chapter 5. Armenia still malingering · The mate relates many experiences-Effie Morrissey and Captain Bob Bartiett, Arctic explorer · Little birds flying about the decks · The hardihood of the Banks fishermen · Cleaning up day aboard the ship · Washing day aboard · A Great Circle course from Cape Race to Fastnet · Cold the greatest hardship in seafaring · Ship averages 10 knots · A concert in the saloon · Nine days out from Montreal.
Chapter 6. A Captain's "Cure-all" · Ship has port side down with a list of 20' in her rolls to leeward · The greenies and their work · The big German nitrate ships of Ferdinand Laeisz · The French nitrate carriers of A.D. Bordes · Lieut. Wm. Congalton, R.N.R., and his idea of flat-surface square-sails · A day's run of 240 miles · Glass dropping steadily · Ship listed to port 15° to 20° · One of our best men an Esthonian-born American · Now blowing hard from S.S.E. · A dirty south-easter · Green seas cascading over port and starboard rails
Chapter 7. Three foremast hands off duty · A "greenie" takes two hours to do a job: usual time 30 mins. · The incompetence of the "A.B.'s" · Ghosting along in light airs · Wind, from the wrong quarter · Two weeks out, and not yet half-way across · Sunshine and summer warmth · Some of us go overside in a small lifeboat and photograph the Grand Duchess in mid-ocean · A wonderful sight · I tally on to the mizzen t'gallant halliards · We start a shanty · Derivation and place of origin of the "Shanty"
Chapter 8. Five days muzzled by easterly winds and no progress made · Barometer down to 29.3 and still falling · Fighting the canvas in the dark · A heroic and inspiring sight · Ten men get a drink of rum as a reward for their hard work · Gale blows itself out · Green seas cascade over the sides, and eating something of a "stunt" · Barometer now 28.7 · Day's run 42 miles · Two days of solid fog · Swell continues with ship rolling abominably · The richly decorated ikon · The donkeyman, the carpenter, the sailmaker, the bosun · A talk on decline of sailing ships
Chapter 9. Steering S.E., and making 5.5 knots an hour · A sailor without a knife! · Magic of moonlight at sea · Fine day of sunshine and clouds, and going 10 knots · "Shooting the sun" · Scrubbing and polishing · Ruthlessness of training seamen aboard sailing ships · Big event of the day, raising steam in the donkey boiler · Big liner comes up astern · The sailor's holiday, washing of clothes · Old sea lore and nautical laws · Rule of the Road rhymes · Sailorising · Twenty-five days out from Montreal · Ship lying hove-to off Irish coast and blowing hard · Day's run 60 miles, and 90 miles off Irish coast · Captain gets news, by wireless, of the birth of a son.
Chapter 10. Have been now thirty days' aboard the Grand Duchess · Fishing for shark · Warning of two derelicts in English Channel · Day's run at noon 45 miles · Finnish sailors supposed to possess occult powers · Old sailors'ideas regarding gulls and albatrosses · A "supposed ghost" · October 31, ship averaging 12 knots when racing before intermittent squalls · Streek Haven and Crookhaven abeam, distant 9 miles · Canadian Signaller, a Canadian Government Merchant marine steamer, overhauled us · Passing over the spot where the Lusitania was torpedoed · Our cosmopolitan crowd mark the spot · We hope to be in Liverpool to-morrow night · Day's run at noon, 160 miles · November 1, thirty days out from Montreal · Wind dies down and left us drifting about 15 miles S. by W. of Tuskar Rock · Noon, tacked ship and stood to the nor'ard · 7.30 p. m., wind blowing in nasty squalls from the N.E. and E.N.E. · November 2, ship under all sail and going at a snail's pace with a light easterly wind · Day's run at noon, 15 miles to S. and E.
Chapter 11. I beguile the mate's watch by reciting two of Masefield's sea poems · Sky very dark and overcast, canvas hanging listlessly · We shanty while tallying on to the t'gallant halyards · A fair wind wafts us along at 5 knots in the smooth sea · Wind freshens at 4pm., coming away from the S.E. · Skerries lightship abeam at 10 p.m. · Wind dead ahead for making Liverpool to-night · Huge transatlantic liner, ablaze with lights and racing along at high speed comes storming at us · Dhe crosses our bows at 17 knots · A narrow escape for the Grand Duchess · We hope to get in to Liverpool to-morrow, November 4 · Skipper reckons we are now 5 or 6 miles N.W. of Morecambe (November 4) · Ship with yards square heading for Liverpool on November 5 · An ideal day, with fresh northerly breeze, the Grand Duchess running along quietly and steadily making 5 to 6 knots · I start cleaning and packing up · The captain and the tug's skipper · The tug's fee · The old clipper hauls in to the Mersey river, after a passage of 34 days from Montreal · Up betimes on November 6 to view Liverpool and the Mersey by daylight · We are able to dock at 5 p.m. · No one allowed to leave the ship except the captain · We enter the Carrier's Dock, Liverpool, at last.
Chapter 12. Liverpool's attractions too much for some of our crowd · The captain, mate and self celebrate our arrival by a dinner at the Adelphi · We say farewell on Liverpool Landing Stage on November 22 · I return to Canada by the Melita · The after days of the old clipper · Her new name · Her cargoes · Sail training for the Merchant Service · Other famous sailing ships and their histories · The numbers I have visited all round the coast · Number of square-riggers in commercial service dwindling every year · Not a paying proposition
APPENDICES The Story of the Hesperus.
Spar dimensions of ship Grand Duchess Nikolaevna.
Related Titles: The Basil Lubbock Collection The Nitrate Clippers