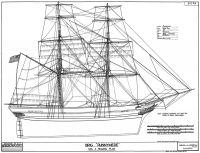 Brig "Runnymede" - Sail and Rigging Plan
By Harold A. Underhill, A.M.I.E.S.
Price:

£9.00
Item attributes
ISBN:

n/a
Item details
Plan: 215
Size of Sheet: 30"x22"
236 tons. Built 1845 by Steel of Greenock. This is an interesting example of the snow rig with single topsails. The lines and sail plan have been produced from the original builders' drawings, but as no arrangement drawing could be found, this is not authentic but is based on similar ships of the type.
Plans in this series: 215 216 217
Construction help: Plank-On-Frame Models Vol I Plank-On-Frame Models Vol II
Guide to Masts and Spars: Details of Masts and Spars, plan 29
Catalogues: Sailing Ships Powered Craft