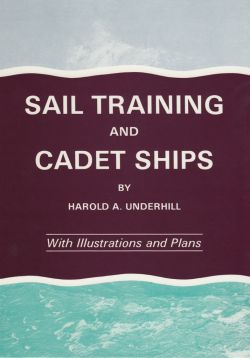 Sail Training and Cadet Ships
Price:

£35.00
Item attributes
ISBN:

978-0-85174-175-8

Published date:

First published 1956
Item details
There is much of interest in the story of sail training, and this new book covers the histories of the many vessels, both past and present, which have been, or still are, employed in this service, from the little Swedish training brig Magnus Stenboch, first used in 1838, to the British three-masted schooner Prince Louis II.
Several years of research were necessary for the data, and in the course of this some interesting stories came to light, such as the last hours aboard the sinking Comte de Smet de Naeyer, the wreck of the Trifolium and the dismasting of Benjamin.
The book is not confined to the big ships but also covers those fine little brigantines which half a century ago used to be a feature of the training establishments, is well illustrated with 132 photographs, many full-page and most from hitherto unpublished negatives. A wide range of plans is included. These include such cargo-cadet ships as L'Avenir and Herzogin Cecilie, some beautiful barques and the delightful little full-rigger Danmark.
"Here is an exceptional book because it exhausts the subject from A to Z. Truly a beautiful book which we would advise you to offer to yourself or have offered to you". Wandelaer, Belgium.
"Once again Harold Underhill has given us a book that will rank amongst the classics of the sailing-ship era. His book is indeed a miracle of research into a comparatively little-known part of the great maritime tradition..." Trident.
Related plans: Comte De Smet De Naeyer 1104 1105 1106 1107
Related plans: Danmark 1070 1071 1072 1073