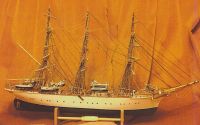 Training Ship "Danmark" - Profile, Elevation and Thwartship Elevations
By Harold A. Underhill, A.M.I.E.S.
Price:

£10.00
Item attributes
ISBN:
Item details
Plan: 1071
Scale: ⅛" – 1'0" (Length of hull 26¼")
Pictures: With thanks to Stan Finney for his permission to feature his Danmark model.
This beautiful little full-rigger of 777 tons was built in 1933 as a training ship for the Danish Mercantile Marine. During World War II she served as a training ship under the American flag, but returned to her own country after the war.
Plans in this series: 1070 1071 1072 1073
Construction help: Plank-On-Frame Models Vol I Plank-On-Frame Models Vol II
Related book: Sail Training and Cadet Ships
Guide to Masts and Spars: Details of Masts and Spars, plan 29
Catalogues: Sailing Ships Powered Craft