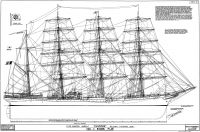 Belgian Training Ship "L'Avenir" (Later "Admiral Karpfanger") - Sail and Rigging Plan
By Harold A. Underhill, A.M.I.E.S.
Price:

£10.00
Item attributes
ISBN:

n/a
Item details
Plan: 1099
Scale: ⅛" – 1'0" (Length of hull 37¾")
This beautiful 2,738 ton four-masted barque was built in 1908 to replace the cargo-cadet ship Comte de Smet de Naeyer which had been lost at sea. L'Avenir served her owners as a training ship for about twenty years during which time she built up a reputation for smartness and all-round ability.
When she was replaced by the State owned Mercator she passed into the hands of Captain Gustaf Erikson of Mariehamn, and soon became as well known in his fleet of grain ships as she had been under her original flag. During this time she retained the original white hull and spars of her contemporaries, with the result that she was usually referred to as "Erikson's yacht". About the end of 1936 she was sold to the Hamburg-America Line, who once more fitted her out as a training ship and sent her to sea as the Admiral Karpfanger, and in November 1939, she was posted "missing".
This set of plans is probably the most detailed of any produced for a modern sailing vessel, including as they do, separate large scale drawings of almost every individual item of rigging, mast and spar, iron work, deck fittings, houses, boats etc, and of course the usual scale drawings of the complete vessel.
The plans show her at the peak of her training days and have been compiled from the original yard drawings, specifications, detail sheets and amendments, re-drawn to scales suitable for model work and condensed into a reasonable number of sheet. In this work, Mr. Underhill had the closest co-operation of Commandant O. Lemaitre, who was in her throughout her days as a Belgian training ship, making a voyage or so as first-officer, then in command until she was finally sold.
For simple models the first three sheets will be sufficient, but if full detail is required then the complete set is desirable.
Plans in this series: 1097 1098 1099 1100 1101
Related plans: Comte de Smet de Naeyer 1104 1105 1106 1107
Related plans: Herzogin Cecilie 1135 1136 1137 1138
Construction help: Plank-On-Frame Models Vol I Plank-On-Frame Models Vol II
Related book: Sail Training and Cadet Ships
Guide to Masts and Spars: Details of Masts and Spars, plan 29
Catalogues: Sailing Ships Powered Craft