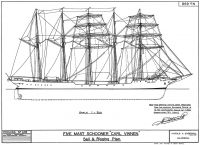 Steel Auxiliary Five-Mast Barque Topsail Schooner "Carl Vinnen" - Sail and Rigging Plan
By Harold A. Underhill, A.M.I.E.S.
Price:

£9.00
Item attributes
ISBN:

n/a
Item details
Plan: 698
1827 tons. Build 1922 by Krupps of Kiel. In 1921 Messrs F.A Vinnen launched the first of five new sister ships for their "Vinnen" fleet, and perhaps the best known of these were the Carl Vinnen and Sussanne Vinnen. All these sisters were identical and of an entirely new rig, being five-mast schooners with square yards on the fore and mizzen. The following drawings are suitable for the construction of small scale models of these interesting vessels.
Plans in this series: 697 698
Construction help: Plank-On-Frame Models Vol I Plank-On-Frame Models Vol II
Guide to Masts and Spars: Details of Masts and Spars, plan 29
Catalogues: Sailing Ships Powered Craft