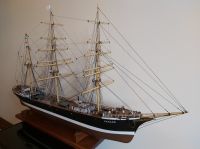 Steel Three-Mast Barque "Penang" - Lines
By Harold A. Underhill, A.M.I.E.S.
Price:

£9.00
Item attributes
ISBN:

n/a
Item details
Plan: 128
Size of Sheet: 28"x20"
Pictures: With thanks to David Bray for his permission to feature his model.
Notes: ex-ALBERT RICKMERS
2,039 tons. Built 1905 by Rickmers of Bremerhaven. This is a very fine example of the modern three-mast barque, and a good prototype for model work.
Plans in this series: 128 129 130
Construction help: Plank-On-Frame Models Vol I Plank-On-Frame Models Vol II
Guide to Masts and Spars: Details of Masts and Spars, plan 29
Catalogues: Sailing Ships Powered Craft