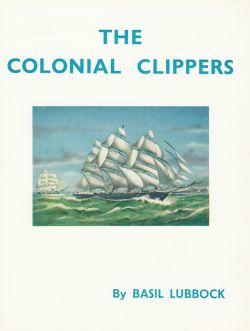 The Colonial Clippers
Price:

£24.00
Item attributes
ISBN:

978-0-85174-110-9

Published date:

First published 1914-New edition published 1948
Item details
This book describes the great wooden clippers of the Black Ball, White Star, Eagle, and other lines which carried the emigrants from Liverpool to Australia in the time of the Gold Rush when all the world was taking ship to the Eldorado under the Southern Cross.
It deals with the wood and composite Wool Clippers, trading to Sydney, Melbourne and South Australia, and also with the clipper barques in the Tasmanian Trade, vessels which were contemporaries of, and which, for beauty, speed and seaworthiness, ranked with the China Tea Ships in their prime.
There is included in the book a good illustration photograph where possible of each of the most noted clippers mentioned.
Sail plans and spar measurements of some of the best known ships are included.
Related Titles: The Basil Lubbock Collection
Related plans, Harriet McGreggor: 986 987 988