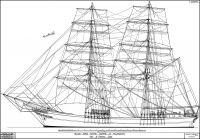 Wood Brig "Marie Sophie" of Falmouth - Sail and Rigging Plan
By Harold A. Underhill, A.M.I.E.S.
Price:

£10.00
Item attributes
ISBN:

n/a
Item details
Plan: 345
234 tons. Built 1879 by Wempe of Elsfleth. The Marie Sophie was owned in Falmouth and forms a good illustration of the wood brig at its best. The following drawings are to a scale of ¼"- 1'0" and include a constructional drawing for building a simplified plank on frame model. This latter sheet gives the size and nature of all material used.
Plans in this series: 345 346 347 348
Construction help: Plank-On-Frame Models Vol I Plank-On-Frame Models Vol II
Guide to Masts and Spars: Details of Masts and Spars, plan 29
Catalogues: Sailing Ships Powered Craft