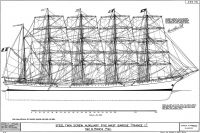 Auxiliary Five-Mast Barque France II - Sail and Rigging Plan
By Harold A. Underhill, A.M.I.E.S.
Price:

£9.00
Item attributes
ISBN:

n/a
Item details
Plan: 635
Size of Sheet: 31"x22"
5,633 tons. Built 1911 by Forges & Chantiers de la Girande of Bordeaux. This famous auxiliary barque was the largest sailing vessel ever built, and exceeded the Preussen by some 550 tons. She was of course the second five-mast barque of that name.
Plans in this series: 633 634 635 636
Related books: Deep-Water Sail
Construction help: Plank-On-Frame Models Vol I Plank-On-Frame Models Vol II
Guide to Masts and Spars: Details of Masts and Spars, plan 29
Catalogues: Sailing Ships Powered Craft