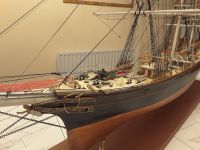 Clipper Ship "Torrens" - Spars and Standing Rigging
By Harold A. Underhill, A.M.I.E.S.
Price:

£9.50
Item attributes
ISBN:

n/a
Item details
Plan: 72
Pictures: With thanks to David Bray for his permission to feature this model.
Size of Sheet: 30"x21"
1306 tons. Built 1875 by Laing of Sunderland. This famous skysail yarder is well known as the favourite ship of Joseph Conrad. The following drawings have been produced from the original builders' plans edited and brought up-to-date with the assistance of Capt. Angel.
Plans in this series: 70 71 72 73
Related books: Deep-Water Sail
Construction help: How to Make Clipper Ship Models
Guide to Masts and Spars: Details of Masts and Spars, plan 29
Catalogues: Sailing Ships Powered Craft
Please note, all plans are supplied folded as standard. Rolled tubes are available on request.