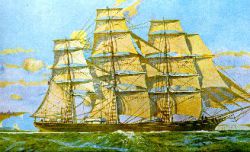 The Cutty Sark
By Chas Pears
Price:

£7.00
Item attributes
ISBN:

Published date:

First Published 1917
Item details
There being no reliable picture in existence of the famous clipper, Mr Charles Pears, marine artist, was commissioned to paint one, and this picture is a reproduction of the painting. The picture is correct in every detail, as we secured from the Cutty Sark's sail designer the original sail plan and scale of the world renowned sailor.
The picture shows the Cutty Sark passing Dover under a full spread of sail with the Dover cliffs as background.
Mounted on board suitable for framing the size is 508x295 mm: with mount size 648x521 mm.
This picture displayed has been cropped slightly.
Other pictures available: Cutty Sark Thermopylae Racing with Cutty Sark
Related books: The Log of the Cutty Sark Cutty Sark and Thermopylae Era of Sail
Available Plans: We are pleased to confirm that you can build your own version of this beautiful ship using plans 50 51 52