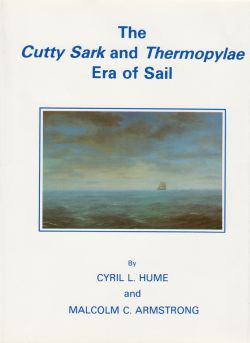 Cutty Sark and Thermopylae Era of Sail
By C. Hume & Captain M. C. Armstrong
Price:

£20.00
Item attributes
ISBN:

978-0-85174-500-8

Published date:

First published 1987
Item details
This is a book to be read for pleasure; true anecdotes take precedence over technical reference material; it will therefore appeal equally to avid collectors and to newcomers to books of the sea. Cyril Hume had a vast collection of photographs and other memorabilia acquired during a life time study of ships and seamen. He went on board the square riggers that visited his home town of Sydney in the early part of this century and he met many of the men who had sailed in the clippers.
In the selection of material and the general arrangement of the book, Cyril was ably assisted by Captain Malcolm Armstrong who was left with the task of completing the book after Mr. Hume's death in 1984.
The Cutty Sark and Thermopylae are well known clipper ships and in this book the reader will become acquainted with equally important ships such as Marco Polo and Samuel Plimsoll and others. There is even the story of the Plimsoll Line and the dubious origin of that name.
The old black and white photographs of ships, harbours and shipboard life are well supplemented by a colour section which includes reproductions of some very fine marine paintings. For the layman, a useful glossary of nautical terms has been included.
Plans in this series: 50 51 52
Pictures: Thermopylae Racing with Cutty Sark Cutty Sark The Cutty Sark
Related books: The Log of the Cutty Sark Cutty Sark and Thermopylae Era of Sail The Basil Lubbock Collection
Construction help: Plank-On-Frame Models Vol I Plank-On-Frame Models Vol II How to Make Clipper Ship Models
Catalogues: Sailngs Ships Powered Craft