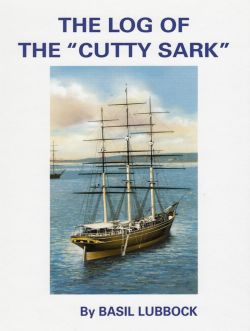 The Log of the Cutty Sark
Price:

£24.00
Item attributes
ISBN:

978-085174-115-4

Published date:

First published 1924 --2nd edition 1974
Item details
A history of the famous tea and wool clipper, Cutty Sark, the most interesting sailing ship still afloat, considered to have been the fastest of all the clippers.
The book is compiled from her log books, her captain's abstracts and information received from those who served aboard her, and from those who served aboard her rivals, or were connected with her in some way or other.
One chapter, "A Hell-Ship Voyage", is more full of dramatic incident than any sea story by Clark Russel, and it gives the true details of a tragedy which Joseph Conrad has woven into one of his fascinating books.
The illustrations, which are very numerous, are mostly taken from old photographs. The scale plans of her lines, midship section and sail area should enable any model enthusiast to construct a correct representation of the famous ship without any difficulty.
In the appendix will be found not only the scantlings of Cutty Sark and her great rival Thermopylae, but the spar measurements of such well-known clippers as Ariel, Titania, Spindthrift, Hallowe'en and Normancourt, whilst even the sizes of the Cutty Sark @ standing, running and stunsail rigging are given.
The well-known volume that brought the famous clipper and her celebrated master to the notice of the sea-loving public.
Plans in this series: 50 51 52
Pictures: Thermopylae Racing with Cutty Sark Cutty Sark The Cutty Sark
Related books: The Log of the Cutty Sark Cutty Sark and Thermopylae Era of Sail The Basil Lubbock Collection
Construction help: Plank-On-Frame Models Vol I Plank-On-Frame Models Vol II How to Make Clipper Ship Models
Catalogues: Sailngs Ships Powered Craft