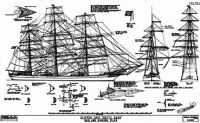 Clipper Ship "Cutty Sark" - Sail and Rigging Plan
By Harold A. Underhill, A.M.I.E.S.
Price:

£9.00
Item attributes
ISBN:

n/a
Item details
Plan: 52
Size of Sheet: 30"x22"
966 tons. Built 1869 by Scott & Linton of Dumbarton the Cutty Sark was considered to have been the fastest of all the clippers. The following drawings have been produced for the construction of simple scale models.
Plans in this series: 50 51 52
Pictures: Thermopylae Racing with Cutty Sark Cutty Sark The Cutty Sark
Related books: The Log of the Cutty Sark Cutty Sark and Thermopylae Era of Sail The Basil Lubbock Collection
Construction help: Plank-On-Frame Models Vol I Plank-On-Frame Models Vol II How to Make Clipper Ship Models
Guide to Masts and Spars: Details of Masts and Spars, plan 29
Catalogues: Sailing Ships Powered Craft